Planning to get to Planckendael by car? We'll show you the way!
⚠️Road works near Planckendael ZOO
From August the third to the fifth of September, the Agentschap Wegen & Verkeer plans to work on the Leuvensesteenweg, the road on which Planckendael ZOO is located. Planckendael ZOO will remain accessible during the road works.
On Monday 13 September, a second phase of the works will start and only one-way traffic will be possible on the Leuvensesteenweg from Mechelen towards Leuven. Traffic coming from Leuven will be diverted from the intersection with the Trianonlaan towards Hofstade, in order to reach Mechelen via the E19.
Traffic from the E19 reaches Planckendael ZOO via the Mechelen-Zuid or Mechelen-Noord exit. Follow the R12 towards Leuvensesteenweg. This route is clarified by road signs.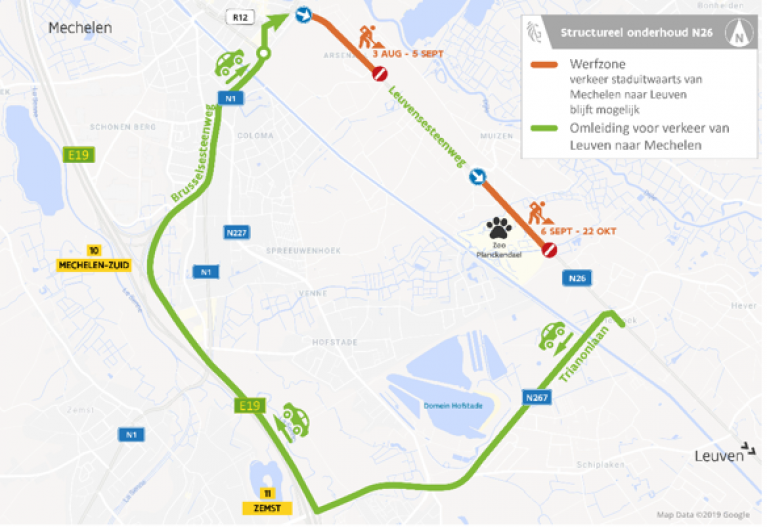 After your visit to Planckendael ZOO, you will only be able to leave the car parks in the direction of Leuven. Traffic in the direction of Mechelen follows the diversion via the Trianonlaan (N267).
Cyclists will always be able to use the Leuvensesteenweg. The cycle path on either side of the paved road will remain available at all times.
Directions
Planckendael is not far from the motorway. This is how you get there:
Follow the E19 Antwerp – Brussels.
Take exit 11 – Zemst.
Follow the signs to Planckendael.
Parking
Planckendael offers two spacious car parks. Address: Leuvensesteenweg 582, Mechelen.
Car Park 1: at the entrance - 400 spaces
Car Park 2: across the access road to the wildlife park - 1,600 spaces. A pedestrian tunnel under the Leuvensesteenweg will take you safely to the entrance.
Car park rates: € 9.00/day, € 25.00/year additional option for members. At busy times of year we open a third car park with additional capacity for a further 350 cars.